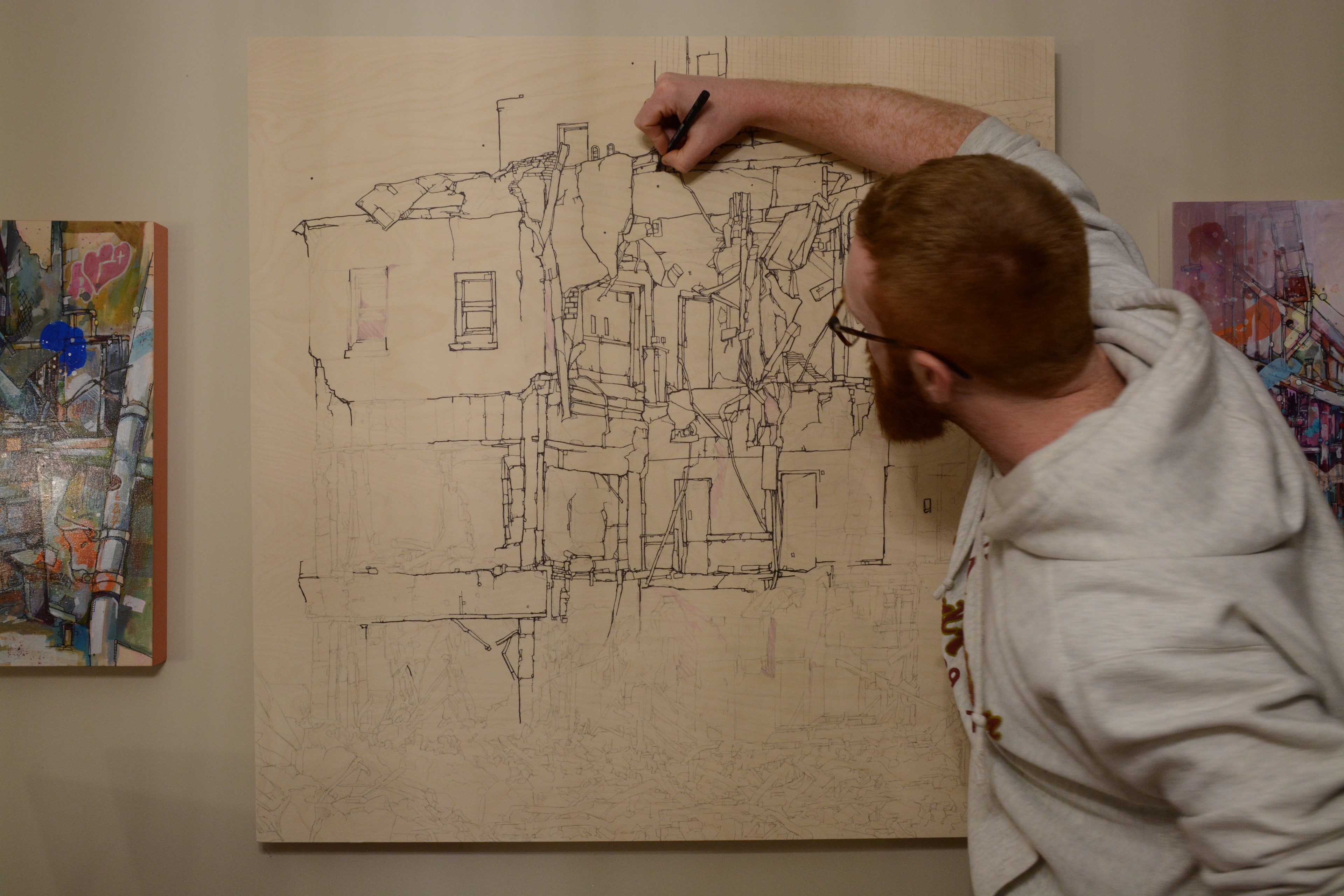 Statement

My work documents derelict urban landscape while critically analyzing its transformation and devolution. The highly-detailed pieces I produce are direct responses to familiar locales that I experience in my daily routine.
The fleeting labyrinth of partially-demolished structures and piles of sinewy metal provide endless reference material for my illustrative, mixed media paintings.
Based on high-resolution photographs captured daily on-site, I create detailed ink drawings on clear-primed wood panels, upon which I build many glazes of translucent acrylic. Thin black lines establish structure that accepts puddles of watery paint. The paint is bisected with additional drawing, which creates further sections for additional paint marks, and so forth. This back-and-forth conversation between layers and materials necessitates critical mark-making at every stage, as each layer reacts to the previous, and is required to establish the next.
Bio

Born and raised in St. Catharines, Ontario, I received my BFA from Mount Allison University in 2008. My work at this time focused on documenting the decommissioned iron forges of Sackville, New Brunswick.
Next, I spent six years documenting the gentrifying and rapidly evolving alleyways of Vancouver's Downtown Eastside. A wealth of crumbling brick, wiry cables and overwhelming clutter, this environment inspired a massive series of urban landscape paintings.
Press coverage includes 24 Hours, The Georgia Straight and the Vancouver Official Visitor's Guide. Works from this series were also acquired by significant private collections, including Aquilini Group, West Coast Reduction, and Next Level Games.
In late 2018 I relocated to my hometown of St. Catharines, where I continue to develop new work and exhibitions.