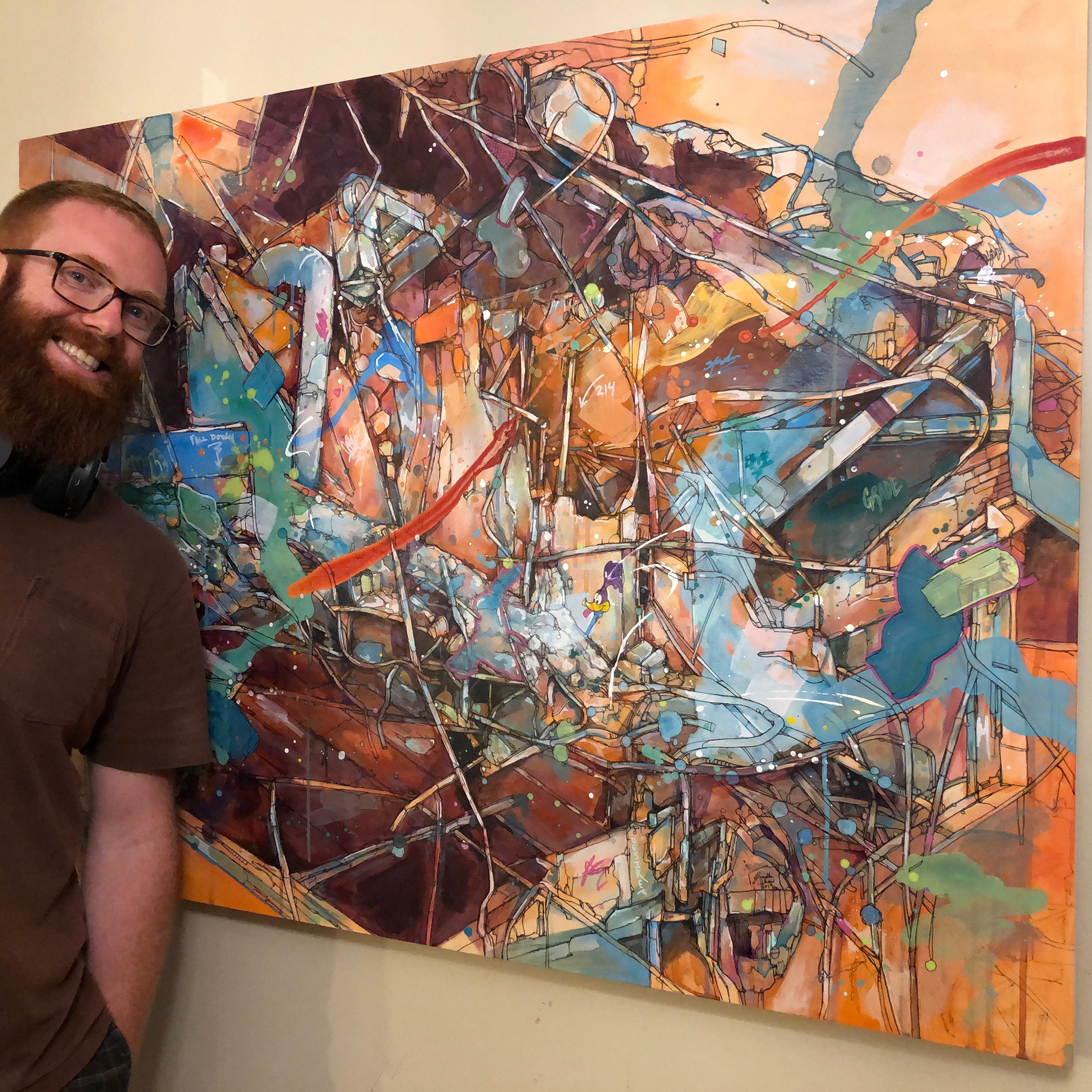 Statement
My work documents the metamorphosis of cluttered urban spaces. Recreated as illustrative ink and acrylic paintings on wood, the work memorializes the ongoing transformation of familiar locales, often overlooked in our daily routines. It celebrates crumbly detritus, dumpsters, graffiti and discarded objects. Current work focuses on the ongoing demolition of the decommissioned St. Catharines General Hospital, which sat abandoned for the past six years.

My paintings integrate complex ink lines with excessive layers of bright acrylic, harmoniously blending spontaneous puddles with detailed structure. These techniques, fuelled by the narrative between human and place, results in unique work that I often categorize as "Urban Abstraction".

Bio
I was born and raised in St. Catharines, Ontario, and received my BFA from Mount Allison University in Sackville, New Brunswick in 2008. Here I focused on developing a unique style that integrated ink drawing and acrylic painting.
After graduation, I spent ten years documenting the gentrifying and rapidly evolving alleyways of Vancouver's Downtown Eastside. A wealth of crumbling brick, wiry cables and overwhelming clutter, this environment inspired a massive series of urban landscape paintings.
Press coverage on the West Coast includes 24 Hours, The Georgia Straight and the Vancouver Official Visitor's Guide. Works from this period were also acquired by significant private collections, including Aquilini Group, West Coast Reduction, and Next Level Games.
In late 2018 I relocated to my hometown of St. Catharines, where I continue to develop new work and exhibitions based on industry and detritus in and around the Niagara Region including St. Catharines, Hamilton and Toronto.